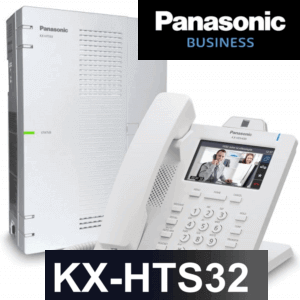 Panasonic KX- HTS32 PBX System khusus didesain untuk for SME Sector. Ini adalah sebuah sistem telepon IP hybrid yang bisa memakai ekstensi IP dan juga ekstensi Analog. Sistem Basic tersedia dengan kapasitas 24 ekstensi dan 4 Trunk Lines. Panasonic KXHTS32 juga bisa melakukan fungsi standar seperti kotak suara, IVR, Mobile Extension, SIP Extension Licenses dan SIP trunk.
Fungsi Panasonic HTS32 Secara Detil
Panasonic KX-HTS32 adalah sistem PBX lengkap dengan router dan Wi-Fi hotspot di dalamnya. Dengan harga yang sangat murah dan memiliki semua fitur standar yang penting, KX-HTS32 adalah pilihan ideal sebagai sistem telepon untuk kantor. Ini di desain untuk memeuhi komunikasi optimal untuk perusahaan kecil dan menengah. Peralatan ini mendukung Standard SIP IP Phones dari Grandstream, Cisco, Yealink, RTX, Snom, dan Dlink.
Sistem telepon HTS32 PBX bisa dengan mudah di install dan diperbaiki. Bahkan, IT Support bisnis jaman sekarang mempunyai tren seperti BYOD (Bring Your Own Device). Itu maksudnya makin banyak perusahaan yang mengizinkan pegawai untuk membawa alat bantunya sendiri untuk bekerja dan terhubung ke jaringan dan sumber daya perusahaan itu sendiri. Dengan WiFi terintegrasi dan Mobile Extension Support, itu bisa dicapai dengan mudah dengan Panasonic KX-HTS32.
HTS32 PBX System Panasonic HDV Series Phones, Analog Phones, SIP Phones as Panasonic KX-NTV Series Video Door Phones. Anda bisa memasukkanjalur ISDN/ PRI dengan KX-NS5282X  dan KX-NS5284X .Sistem Panasonic HTS32 Advanced Hybrid PBX siap untuk koneksi ke SIP IP Phones. Anda tidak butuh lisensi terpiah untuk koneksi ke SIP Phones. CO Line [ 4 Trunk ]  dan SLT Extensions dilengkapi langsung dengan Caller-ID.
The Panasonic KX-HTS32  IP PBX  has an initial factory configuration of 4 CO analog trunks and 8 analog extensions with caller ID. this capacity can be increased up to a maximum of 8 CO trunks and 24 extensions by using Of optional cards, in addition, the HTS32 system has WiFi router and access point built in, this allows to use the HTS32 as an access point for PCs or Smartphone smartphones.The HTS32 Telephone System has 24 functional SIP extensions support inbuilt without the need for additional licenses.
KX-HTS32 Telephone System Specification
Type
Pre-Installed
Maximum Capacity
Maximum Trunk Lines
8[6 If G729A Codec]
8[6 If G729A Codec]
SIP Trunk – 6 [ G.711 Codec]4[ G729A Codec]

Analog Trunk – 4

SIP Trunk – 6 [ G.711 Codec]4[ G729A Codec]

Analog Trunk – 8

Extensions
Sip Extension- 24Analog Extensions- 8
Sip Extension- 24Analog Extensions- 24
IDISA
4 ch
4 ch
Built in VM
4 ch
4 ch
Analog Door Phone
0
2
Analog Door Opener
0
2
IP Door Phone
Can use as an IP Extension
Max System Extension Capacity
HTS32 Features
Voice Mail
Up to 32 extensions
24 SIP Licence Inbuilt
Music on Hold
IP/Legacy Flexible Hybrid System.
Call Detail Records [CDR] – 40000 Calls
Built-in Basic Call Handling Function
Extension Group
 Integrated Router and Wi-Fi Access Point
Remote IP Extension
IVR [ Max 60 Second, 10 Messages]
Video Communication
Simple Monitoring System
Voice Mail Notification
Paging
Easy Installation
Simple Maintenance